23 July 2022
I "ran away" to Paris this past April. It seemed, in retrospect, that the pandemic had affected me more than I had assumed. At its inception, I was calm; after all, living alone and devoting myself to writing created its own isolation from the world. I had few friends who lived close by, so "socializing" consisted of a few lunches or dinners out in a week. Those moments were basically all I lost to the pandemic, and it seemed that I compensated by corresponding more frequently via snail mail and email with friends.
But, once the lock-downs and cautions were eliminated, so was my contentment with being alone, at home, and physically asocial. I craved the world, the sights and sounds of other people, the unfamiliar.
Why Paris? Initially, and superficially, I thought it was a dramatic and imaginative decision. Paris! I could hear sentimental accordion music, smell the fresh bread in the boulangeries, and picture myself sitting with a glass of wine at a small outdoor table on the sidewalk in front of a café.
The reality was I needed a place where I could not get away from my writing, where there were no distractions—the cats needing feeding, the mail needing getting, the garbage needing taking to the curb—and no way for me to set the writing aside by meeting with friends, finishing chores, or allowing the television to lull me into a semi-mindless stupor. Paris would be ideal: a language I couldn't speak, a cosmopolitan place I was unfamiliar but comfortable with, a cozy but impersonal apartment. I'd be surrounded by people but separated from them by culture and language. I'd be in the midst of history but unattached to it. I'd be independent of but reliant on the society I'd injected myself into. I would write, walk the streets, observe, listen, lurk, and write.
I was to discover so much about myself as I sought to discover Paris. I refused to be a tourist (except for a brief few days in the month I was there when relatives insisted on visiting me—I believe they were more intent on assuring themselves that their elderly relative—me—was okay. I "took" them sightseeing, as if Paris were my city to show them!
A friend's young daughter visited me as well, and we spent two days walking, eating, laughing, enjoying Paris as compatriots. We never spoke of it, but we both felt free in Paris: free of our responsibilities, of our cultural restraints, of being American. It was liberating if fleeting.
I ate out as little as possible, choosing instead to buy foods that I could prepare or simply unwrap in my little apartment. Every day, I bought a croissant and a baguette, some days also choosing a freshly-made sandwich from the bakery just one block away. For Easter, I bought a whole small roasted chicken, two galettes, and a pre-packaged vegetable pack with dressing. I treated myself with iles de flottante (floating islands desert) which I found by happy accident.
I walked idly, not looking for anything, just breathing in the city's sights and sounds, its constant traffic. The pleasant surprises of such walks were coming suddenly to the Seine, to Notre Dame (only a few blocks away), to the Pantheon, and to a huge and imposing statue of Danton on Boulevard Saint Germain. I had chosen to rent in the Fifth Arrondissement because it was the arts and student district. I was not disappointed. I was fifteen minutes walk from the Sorbonne. Additionally, I'd read that T.S. Eliot lived in this district as a student in 1919, and one of my forays led me to stand in front of and across the street from the boarding house where he stayed. That discovery put me in awe.
My apartment, on the top floor of the building, was light, airy, and modern in the sense of being utilitarian: a bed in the bedroom (the headboards provided shelving), a sofa-bed in the living room, an LCD tv on the wall (French only, so I turned it on only once in the entire month), a table and four chairs. A simple, small kitchen with microwave, induction range, and a coffee maker. No cozy easy chairs or table lamps. No homey curtains or pictures on the walls. The windows in the back faced iconic Parisian roofs and the windows of a school. (The joyful voices of the children sometimes drifted in my windows.) The front windows faced Boulevard Saint Germain (seldom quiet) and the back of St. Nicolas de Chardonnet Church (ultra-traditional Roman Catholic).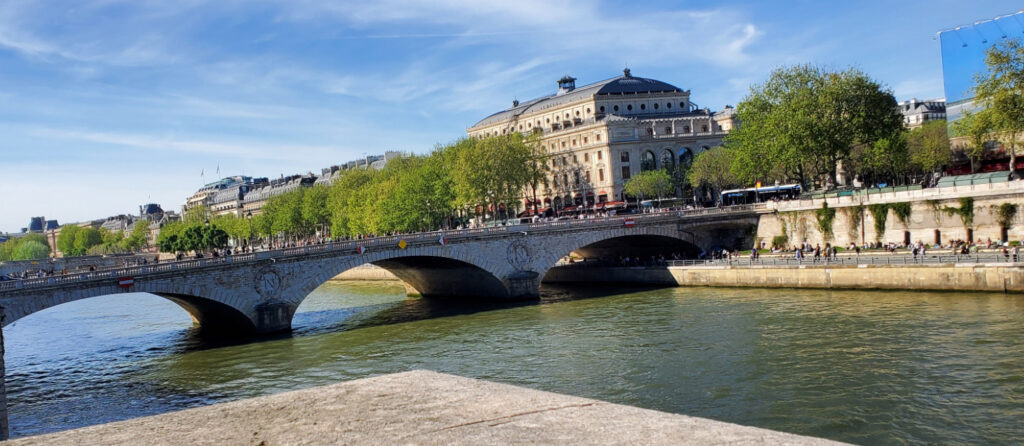 Aside from traffic on the boulevard, what kept me company (auditorily) was the Church. It was, after all, April and Easter. The bells rang every hour on the hour except for the silence maintained between 3 p.m. Good Friday and 11:59 p.m. Holy Saturday. And they rang with enthusiasm! I generally kept my windows shut to minimize the noise.
Living in Paris for a month was salutary for me, both mentally and physically. (I say this despite—or perhaps, because of—an unexpected hospitalization at the end of the month, a removal of my gall bladder, and a generally wonderful extra week of recuperation in Paris.) I wrote, as I intended, and wrote in many ways that I had not expected: so much imprinted itself on me, but mostly the city itself, its pulse and aura. It reawakened my love of urban life, reinforced for me the idea that a city is the very beating heart of a country, and that Paris—no matter its problems and flaws—still inspires.